Please email us directly for a quotation: info@tradewarehouse.co.uk
These gutters match the swaged round downpipes. When it comes to maintaining your home, choosing the right gutter system is crucial. One popular option for contemporary homes is aluminium rainwater systems. Here are some reasons why:
Durability: Contemporary aluminium rainwater systems are incredibly durable and long-lasting. They are resistant to rust, corrosion, and fading, ensuring that they will continue to function properly and look great for years to come. They offer a much better lifespan than plastic guttering.

Lightweight: Aluminium, particularly this SNAP-IT range, is a lightweight material, making it easy to install and move around a building site.

Low maintenance: Since aluminium is resistant to rust and corrosion, it requires very little maintenance. This means that you won't have to worry about constantly cleaning or repairing your gutters, saving you time and money in the long run. Consider visiting our accessories section to learn more about gutter maintenance.

Aesthetically pleasing: Contemporary aluminium rainwater systems come in a variety of styles and colours, making it easy to find an option that matches the look and feel of your home. Plus, the sleek, modern design of aluminium gutters can add curb appeal and value to your property.

Environmentally friendly: Aluminium is a highly sustainable material, as it can be recycled endlessly without losing any of its properties. This means that if you ever need to replace your gutters, you can feel good knowing that the old ones will be recycled instead of ending up in a landfill.

Cost-effective: While contemporary aluminium rainwater systems may have a slightly higher initial cost compared to other materials, their durability and low maintenance needs make them a cost-effective choice in the long run. Plus, the added curb appeal and value they provide can also contribute to a higher resale value for your home.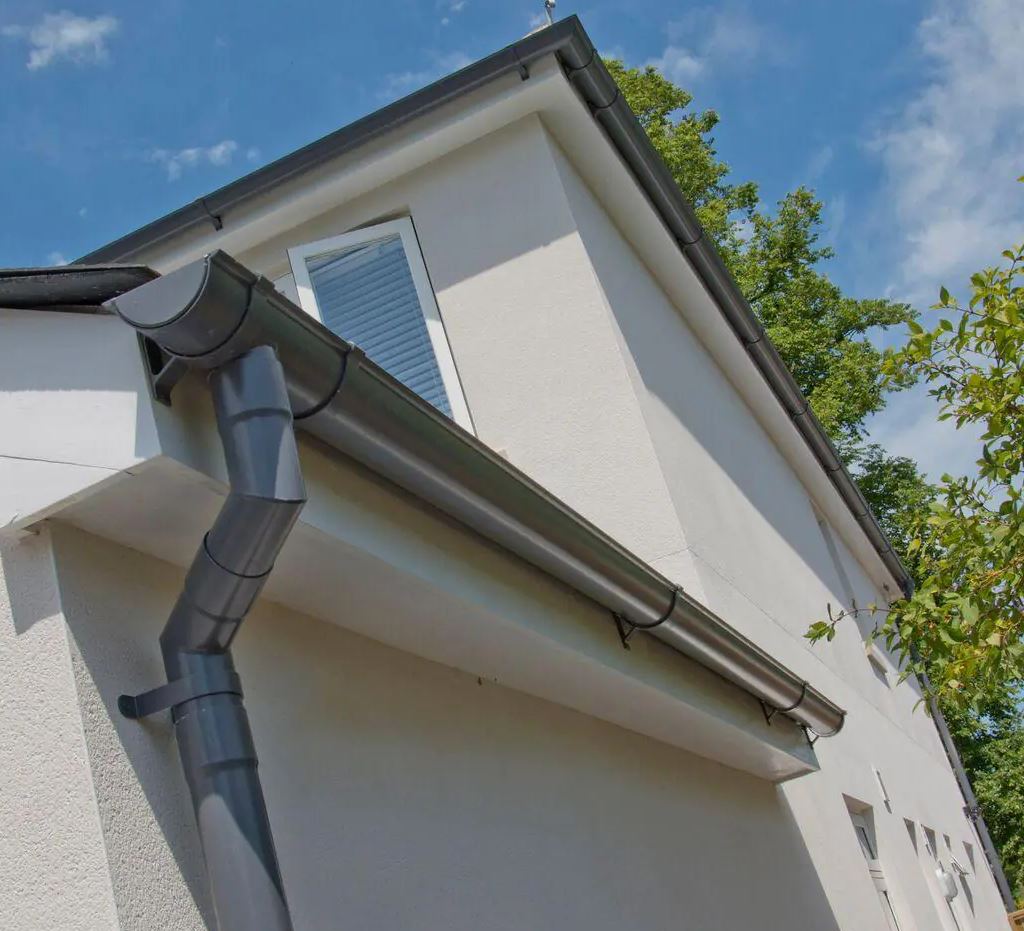 Why Choose SNAP-IT Aluminium?
The extruded aluminium (Snap-it) range, sold by Trade Warehouse, is built slightly thicker than steel, and therefore offers good durability, lasting in excess of 25 years. Due to the fact that most Snap-it gutters are built with larger profiles, this range is a brilliant choice for large commercial and industrial properties, where runoff is high.
Extruded aluminium gutters are also extremely flexible and easy to install, and most individuals with some DIY experience will be able to fit the system. Each of the gutter components 'snap' together easily with no screws or bolts, in the end giving a smooth-looking finish to suit the property. There are a variety of profile types and finishes available through Trade Warehouse, including half round, vintage moulded ogee and contemporary joggle box sections.
Many architects and homeowners opt for this stylish aluminium guttering range because of its excellent eco-credentials. 80% of the UK homes that use aluminium gutters have been created using recycled aluminium, and the twenty-five-year life span means the system will last a lifetime, even when exposed to the temperamental UK climate. 
If you need any support with choosing the right product for you project, please get in touch with our expert team on info@tradewarehouse.co.uk or call our office from 9am-5pm on 0208 037 6020. We'd love to help!
A Contemporary Choice
Extruded aluminium comes in a wide range of colours and profiles to suit your project. 
It is lighter and cheaper than cast iron, but much tougher than steel and – the best part is that there are no nuts or bolts are required for installation. Simply order the guttering to your property, get the installation guide, and you're good to go! To install, fascia brackets are fixed to the fascia board or rafters. The gutters are then fixed to the fascia brackets and sealant is added to the unions, outlets and stop ends. It's that simple!
This rainwater system was designed to replace the traditional uPVC guttering, which can crack or fade in a few years. This system lasts in excess of 25 years under the correct maintenance. Get in touch if you have any queries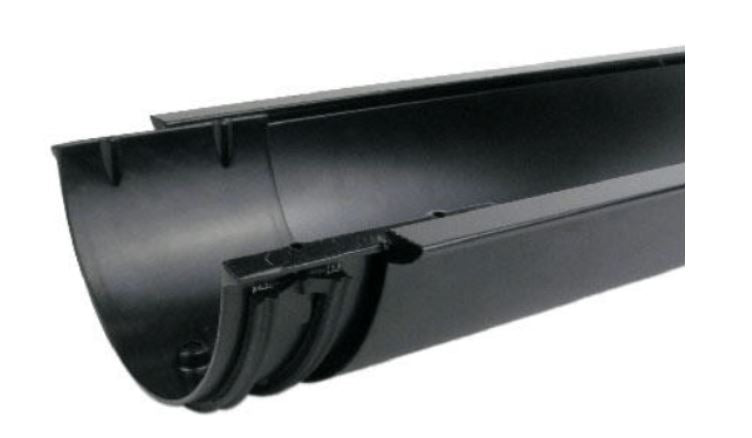 Extruded Aluminium Guttering FAQs
Extruded aluminium guttering is a type of guttering system made from aluminium that is created by forcing the metal through a shaped opening in a die. This process creates a continuous length of guttering that is seamless, strong and durable.
Extruded aluminium guttering has several advantages over other types of guttering systems. It is lightweight, easy to install, and requires minimal maintenance. Additionally, it is resistant to rust and corrosion, which means it will last for many years without deteriorating.
While it is possible, it is recommended to hire a professional guttering installer to ensure the job is done correctly. Improper installation can lead to leaks and other issues that can cause damage to your home.
The system requires minimal maintenance, but it is important to clean it regularly to prevent build up of debris. Simply use a ladder and a hose to flush out any unwanted bits and ensure that the system is functioning properly. Additionally, it is important to check for any damage or cracks and repair them promptly to prevent further damage.
We can usually get the order to you within 3-5 working days from receipt of order.
Any other questions?
If we still haven't answered your question, you can contact us below and we will get back to you as soon as possible.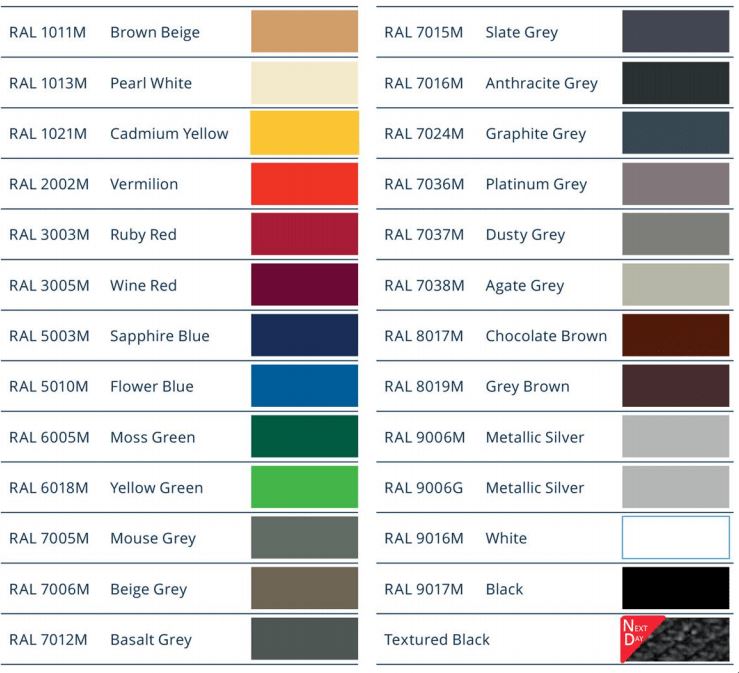 Choice of RAL Colours Available in 7-10 days
Email us if you have a custom colour requirement. We can do any colour, just drop us an email!
Remember lead time is slightly longer on the custom colours. Textured black is available in 1-2 working days.
info@tradewarehouse.co.uk