These composite fence panels have been crafted to require very little maintenance, and are extremely durable. Each panel is treated with an anti-UV agent to improve colour stability over time. A fantastic wood fence alternative.

The panels have a contemporary design with horizontal grooves, making them a fantastic choice for both commercial and domestic properties. They are manufactured from 100% environmentally friendly materials and can be cut to length using a wood saw. Here are some features of composite fencing:
Easy to maintain – simply use a jet wash or hose to clean down the surface and remove any debris or dirt. No painting is required. No filling gaps from splintering.
Weather resistant properties – due to the fencing's composition, they will withstand harsh environments, preventing rotting, splintering and warping.
Simple to install – the tongue and groove fitting means that you can slot one board on top of the other. Composite posts can then be used to secure the panels in place. Make sure you read our full installation guide for more information.
Strong as an ox – composite fencing is probably the most durable fencing material there is, after wrought iron. The plastic and wood components improve sturdiness, especially when supported by composite fence posts.
Low water absorption rate – this discourages mould or fungus from growing on the fence panels.
Range of 8 beautiful colours – Ivory, Redwood, Olive Green, Teak, Coffee, Charcoal, Light Grey and Stone Grey
No splintering – because of the blend of hard-wood fibres and plastic, the panels will not splinter, giving them a competitive edge over timber which is prone to naturally occurring splinters.
Natural finish in your garden – the composite fence panels are available in natural colours like teak, helping it seamlessly blend in with your outdoor space.
An aesthetic addition to your garden! – perhaps the greatest benefit of using these fence panels is that they look great!
If you have any queries about our fencing, please don't hesitate to get in touch: info@tradewarehouse.co.uk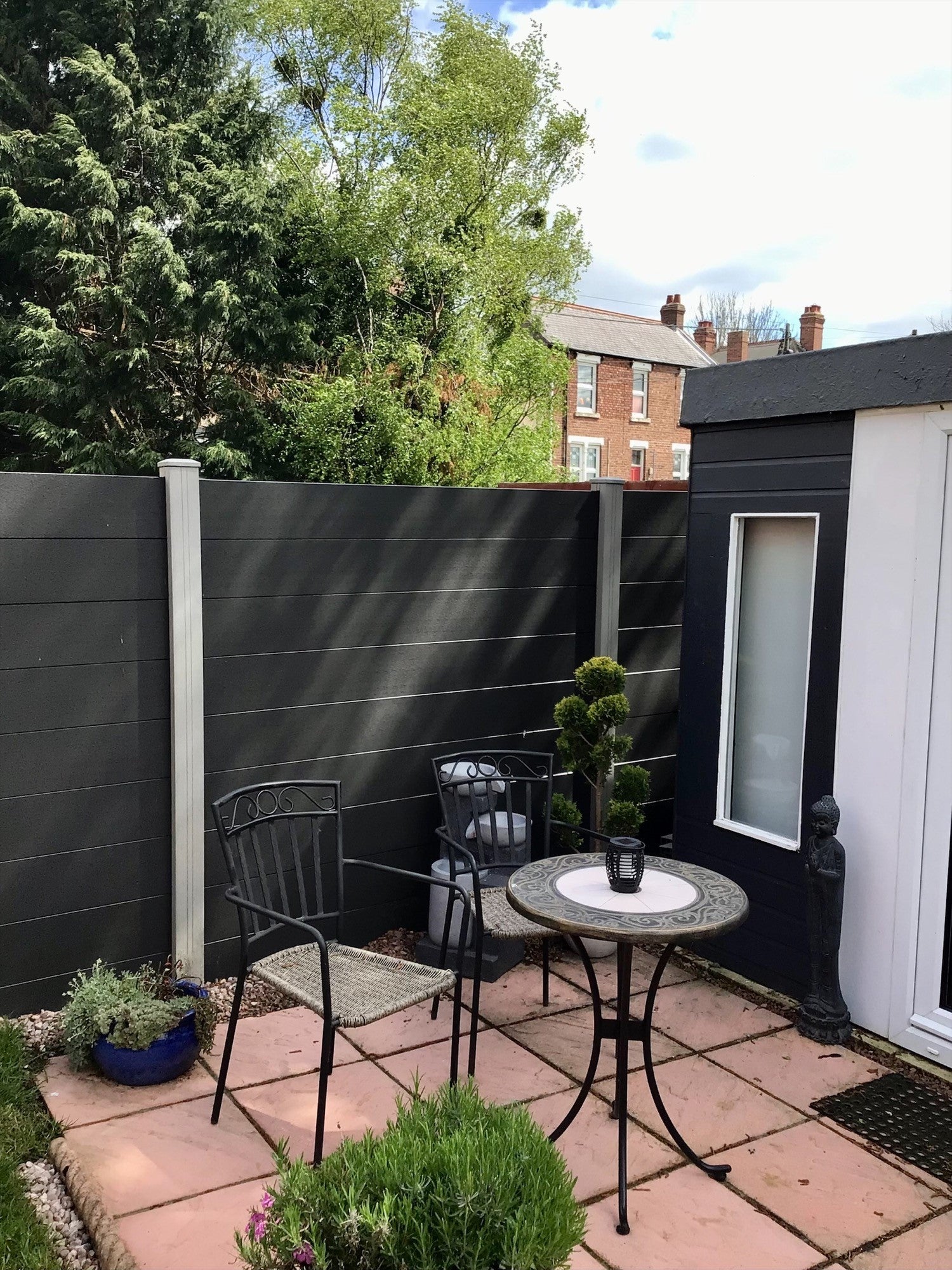 Long Lasting
These composite fencing panels are extrmeley durable and long lasting, thanks to the combination of 60% FSC accredited wood fibres and 40% recycled plastic. The honeycomb core also offers additional strength.
Because of this, the composite panels are able to withstand harsh environments; from the winds of the coast to the beaming rays of the sun in Dorset. This product serves as a great alternative to traditional timber wood fence panels, which are prone to splintering.
If you're re-doing your garden space, you may want to consider outoor composite decking which beautifully complements this fencing. We can also supply you with a range of garden furniture - all to your doorstep.
Easy To Maintain
If you choose wood fencing, you'll need to sand, oil, paint and stain the panels to keep them looking pristine. Composite fencing, on the other hand, only needs a simple jet wash with soapy water. Dirt or debris will not stick to the surface or seep into any gaps. 
This saves you valuable time, allowing you to work on other (more important) things! If you have any questions about how to maintain or install your fencing, please get in touch with our technical team: info@tradewarehouse.co.uk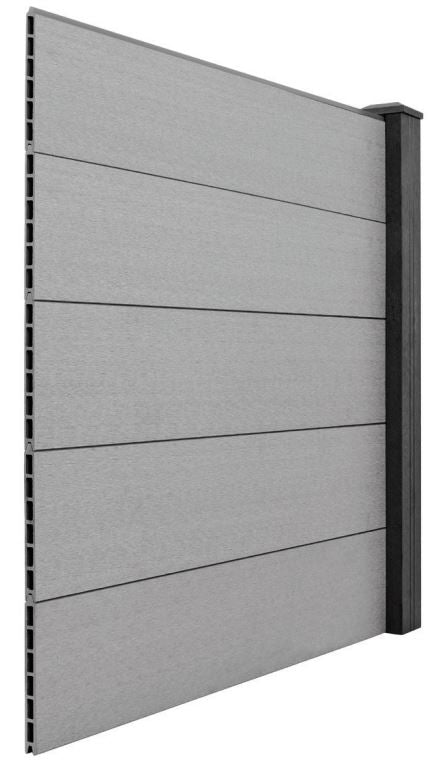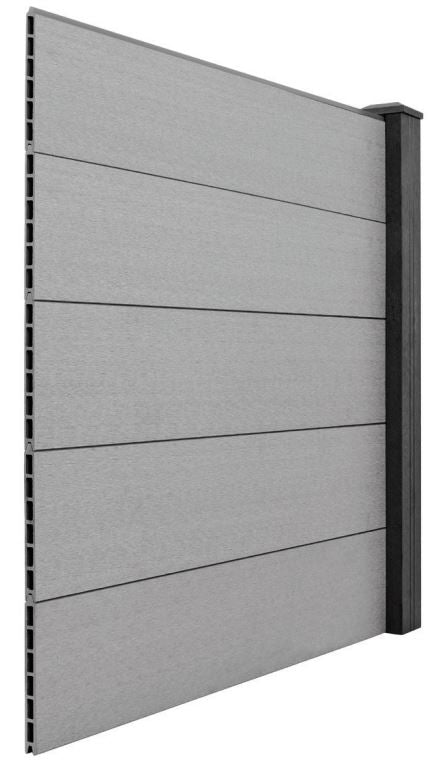 No Splintering Or Rotting
WPC fencing will not splinter or rot due to the composition of wood fibres and plastic. Timber, on the other hand, may rot when exposed to heavy rain for prolonged periods. We offer a wide range of colours to match your surrounding environment. For a more authentic wood look, consider the Teak or Redwood finish.
We take pride in all of the products that we offer. If, at any point, you have any queries or concerns, get in touch with our team:info@tradewarehouse.co.uk. We know online shopping for construction materials can be tough!
Fencing FAQs
It costs slightly more than traditional timber fencing panels, however it is much longer lasting and weather resistant. With the temperamental UK climate, we advise using a durable, composite material to ensure longevity and an outdoor space you can be proud of.
Yes – please refer to our full installation guide for more details.
Yes! There is no need to oil, varnish or paint your cladding boards – we recommend regularly wiping down composite cladding boards with a smooth cloth, using a bit of soap to get rid of simple stains. 
Try not to scratch the surface!
The fencing that we supply is made up of 60% FSC wood-fibres and 40% plastic. This increases the strength of the panels.
The panels come in 3.6m lengths and the posts come in 3m lengths. The panels slot together easily for a quick installation.
We offer 8 beautiful colours. If you want fencing that will blend in with the environment, consider the teak/original wood finish. 
Approximate delivery time is 7-10 working days from receipt of order.
If you install and maintain the fencing correctly, the panels should last for up to 20 years.
Use soapy water and a jet washer to clean the panels. Make sure all dirt and debris is removed from the surface.
Please email us: Info@tradewarehouse.co.uk
Any other questions?
If we still haven't answered your question, you can contact us below and we will get back to you as soon as possible.