There are many advantages to using high-quality, water-resistant decking boards on your property. From PVC boards to composite, we supply a wide range of colours, lengths and finishes that look beautiful all year round. To see how the boards are installed, read our guides. Delivery is 7-10 working days (sometimes sooner).
There are many different boards to choose from. Composite decking is made up of 60% FSC accredited recycled wood fibres and 40% Polyethene – this fusion of materials ensures that you purchase a durable, hardwearing and low-maintenance decking board.
The premium PVC boards that we supply are made up of a polyvinyl chloride (PVC) core with an ASA (Acrylic-styrene-acrylonitrile) exterior. Although it isn't 100% natural, these boards closely resemble traditional timber deck boards and are much stronger. The PVC core also weatherproofs the decking, making it ideal to use in wetter areas. The ASA coating is extremely strong, offering fade and scratch resistance and a 20-year guarantee for peace of mind. These decking boards come in 6 different colours and can be matched with our beautiful fascias which lend a high-quality finish to your project.

Benefits of Using Decking Boards:
Composite decking is easy to maintain and the combination of materials protects the wood against rotting or warping like most traditional timber boards.
PVC boards are extremely easy to maintain because they have low-absorption properties. Timber or oak, on the other hand, is prone to expansion and splintering. We recommend cleaning the composite planks regularly to remove dirt or debris and avoid using chemicals to treat the surface.
PVC decking is a great choice in areas of intense sunlight or high moisture because they are rot-resistant and come with a durable ASA resin coating
If you're looking for a more wood-effect style, consider the Woodgrain Hollow Domestic Grade Composite Decking Board which is built with a beautiful honeycomb core and five-hole design for greater strength. We can supply these in 2m and 4m lengths
T clips and stainless-steel screws allow the boards to expand and contract, increasing their lifespan when exposed to the elements.
A perfect place to entertain your friends on a hot summer night.
A great alternative to traditional timber which rots easily in wet areas.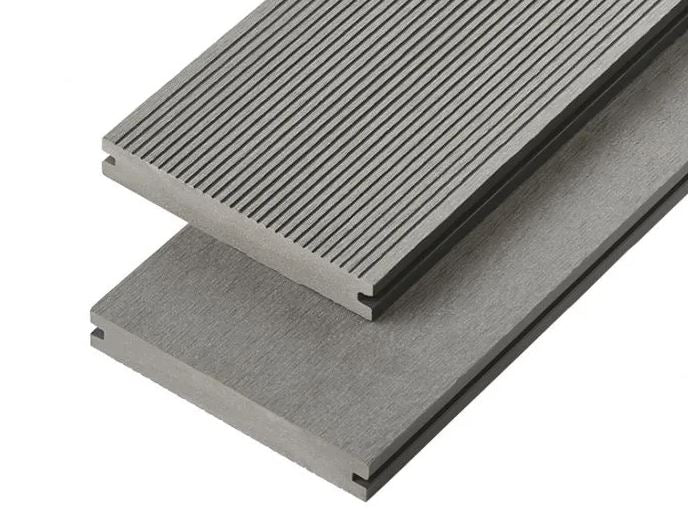 Solid Commercial Grade Composite Decking Boards
These boards have a coverage of 0.6 m² and  have much better strength and sound quality properties than hollow-core decking planks. These boards are a fantastic choice for commercial purposed because they are much more durable and can be subjected to heavy loads.  Available in .4m and 4m lengths.
They can be installed either way up, however we advise using the side with the narrow spaced grooves because of its low-slip properties. It also hides any potential stains or watermarks better than the smooth side. 
Please order all of the boards at the same time. This is because some batches can vary slightly (in colour) due to the natural wood within the core.
Shop Composite Decking
Hollow Domestic Grade Composite Boards
Are you looking to create a stunning flat roof area in your garden? These boards are crafted using a combination of 60% recycled hardwood fibers and 40% high-grade recycled polyethene, bonding agent, additives and tint. The boards are versatile and give a modern, stylish look to your project. Available in a selection of 8 beautiful colour finishes and 2.4m or 4m lengths.
Our team recommends using the grooved side to take full advantage of the low slip properties. Note that the ends of the decking will need to be sealed off using our Hollow Composite End Cap Covers.
Shop Domestic Composite Decking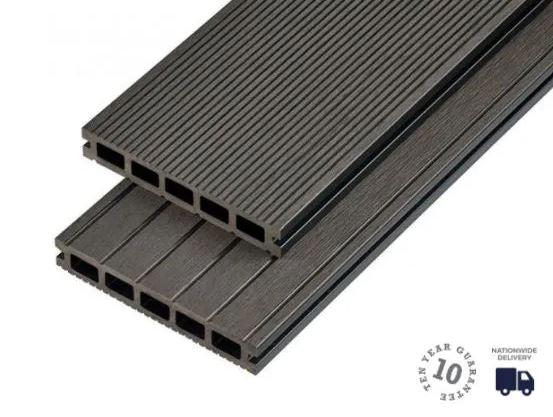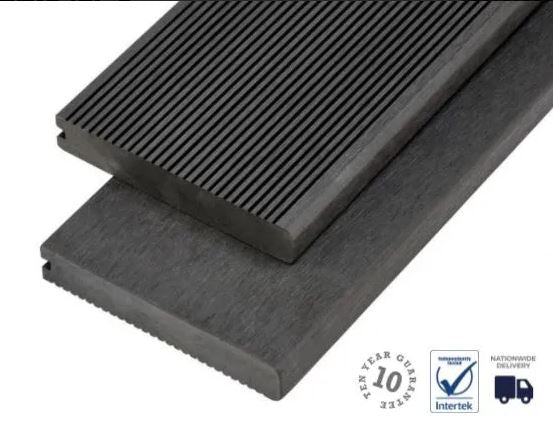 Solid Commercial Grade Bullnose Composite Decking
The Bullnose boards are commonly used to fit the edges of your decking plan, thanks to their beautiful rounded boards (hence the name). They are extremely versatile and have narrow spaced grooves one one side, offering low slip properties.
Also available in 8 unique colours and FSC Certified. They can be cut or sanded down to fit your needs.
Each board is 4m long, 150mm wide and 25mm thick. 
Bullnose Composite Boards
Woodgrain Effect Hollow Domestic Grade Boards
If you want your decking project to stand out to the neighbours, then consider these beautiful woodgrain effect decking boards. Made from 60% recycled hardwood fibres and 40% recycled polyethylene, they replicate the depth of timber's grain patterning and offer a "3D" wooden finish. If you are using the flat side up, please remember that it is not slip rated and could be more slippery than if using the reverse groovy side.
These boards are lightweight but strong, and a cheaper alternative to the PVC-ASA Woodgrain boards. Available in 8 colours and 2 lengths (2.4m or 4m).
Woodgrain Composite Boards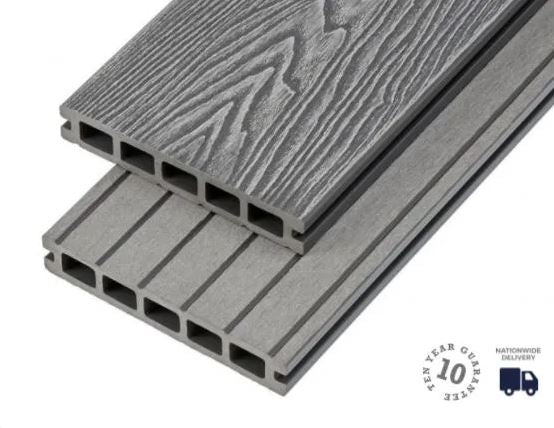 FAQs
This is a tough question to answer without scale drawings. However, first you need to determine your deck's square footage by taking the length of your deck times the width (L x W). Then, divide deck square footage by board square footage – see each product for dimensions and coverage. 
How the boards will fit on your deck frame also depends on how you lay them, which can be straight, diagonal, or a complex pattern.
Let's face it, you want to enjoy your barbecue on nice clean decking boards when the sun is out!
We advise regularly cleaning your decking. Before you start, you should remove everything sitting on your decking so it's completely clear. Our compo-clean solution (or soapy water)  should be used with a bristle brush and warm water. 
 Leave the Owatrol Cleaner or hot soapy water on the surface for 10 minutes before washing the boards down. Remember that the boards can get quite slippery once they have been cleaned!
The boards that we supply come in 2.4m, 4m (composite) and 3.6m (PVC decking).
As long as the boards are not exposed to intense sunlight all the time, the boards will not fade. Due to UK seasonal weather, it is highly unlikely that the cladding will fade. 
However, the woodgrain cladding is more susceptible to slight fading over time.
Yes, we offer a 10 year guarantee. If you have any queries about our policies, please get in touch with us oninfo@tradewarehouse.co.uk.
They come in 6 different colours: Chestnut, Ash Grey, Cedar Wood, Ebony, Silver Birch and Walnut
Approximate delivery time is 7-10 working days from receipt of order.
Some projects may require planning permission. It will depend on where you live, how big your deck is and how high will it be. You can consult our expert technical team for further advice: info@tradewarehouse.co.uk
Any other questions?
If we still haven't answered your question, you can contact us below and we will get back to you as soon as possible.