Composite cladding is created using recycled wood and plastic (40% polyethylene), and can be used on a variety of projects; from small outbuildings to large residential projects. We are a leading UK supplier of cladding in both plain and woodgrain, selling nationwide.
 It is available in a wide range of colours and a great alternative to traditional timber exterior cladding. Composite wall cladding requires very little maintenance and will perform well in all seasons of the year. Our cladding boards give 135mm coverage once installed on your exterior wall. Every 500mm, you should support them with batons and composite joists (as per the installation guide). There are many benefits of using composite cladding on your project:
Composite cladding will look beautiful by 

replicating the appearance of traditional materials like timber, brick, or slate. T

he wide range of colours available ensures that you can choose one to match the exterior of your property. Whether it's a darker charcoal colour or a light grey – we can help!
It's durable – the wood fibre and plastic combined ensure your cladding will last many years without showing signs of wear and tear. The boards have been crafted to install over materials like concrete. This makes it a great option for commercial or domestic purposes. Composite cladding can last 20+ years, whereas timber can
Very low maintenance: Composite cladding only requires simple cleaning to make it look beautiful. There is no need to sand, oil, seal or paint your boards – this saves you money (and time) in the long term! As a result of the bonding agents, these boards have UV-resistant features. They will not fade or discolour, unless exposed to extreme sunlight.
Resistant to the elements: this wall cladding will not splinter or break when exposed to high winds or heavy rain.
Increased property value: Installing high quality cladding and decking on your property can help to increase the value of your property- this is because of the boards' UV resistance, durability and ease of maintenance. This is a real bonus!
Can be installed vertically and horizontally, thanks to the innovative design of grooves and slots on the boards.
Cladding can stop rain from entering the building – prevents the build up of mould or mildew on the wall.
Composite Cladding vs Timber Cladding Lifespan:
High-quality composite cladding can have a longer lifespan compared to natural timber. Some composite cladding products come with warranties ranging from 10 to 25 years or even longer, depending on the manufacturer.
Composite cladding is less susceptible to issues that can reduce the lifespan of timber cladding, such as fungal decay, insect infestations, and warping.
Proper maintenance, such as regular cleaning and avoiding exposure to extreme weather conditions, can help prolong the lifespan of composite cladding.

Timber Cladding:
The lifespan of timber cladding can vary widely depending on the type of wood used and the level of maintenance it receives.

Hardwood species like oak, cedar, and redwood are more durable and can have longer lifespans compared to softwood species like pine or spruce.
Timber cladding is susceptible to decay, insect infestations, and warping if not properly maintained. Regular painting, staining, and sealing are often required to protect the wood.
In the UK's wet climate, timber cladding may require more frequent maintenance to prevent moisture-related issues, which can reduce its lifespan.
Range of Colours Available
We currently offer a range of 8 colours in the plain and woodgrain finishes, including stone grey, light grey, charcoal, olive green, teak, ivory, redwood and coffee. View the products below to see the colours. 
Installation Guidance:
We can send you a full installation guide. Please see a summary of how to install your composite cladding supplied by Trade Warehouse:
Storage and Handling: Store the composite wall cladding boards in a cool, shaded area on a flat surface, ideally on a pallet. Handle the boards with

protective gloves

and ensure they are carried by

at least two physically capable persons.

Tools and Protective Equipment: You will need standard carpentry tools like a tape measure, pencil, power drill or driver and a spirit level. Wear long sleeves, gloves, a dust mask, ear defenders, and safety glasses for protection.
Preparation: Pre-drill the battens and the surface below using a 6mm drill bit. Choose suitable fixings for the surface you are fixing into. Screws should be 5-6mm in diameter and at least 80mm long.
Installing Battens: Attach battens to the surface at a maximum distance of 500mm apart, ensuring they run the entire length of the area being clad. Install additional battens at any point where two cladding boards will join end to end. Battens should be 50mm wide x 30mm high and fully supported.
Fitting Cladding Boards: Continue fitting the cladding boards by butting the ends up together. Install more battens if necessary, as each board needs to be supported on a batten where it meets the next board.
Securing Boards: Secure the boards using screws at least 30mm in length, ensuring each board is fastened securely on each batten. Do not over-tighten the screws.
Finishing Touches: Finish off the edges using trims available in various colors to complement your cladding boards. These can be glued in place using exterior-grade high elastic glue. Install corner trims as the last phase, ensuring airflow is not completely sealed.
Aftercare: For maintenance, brush the cladding boards with a stiff-bristled brush for everyday cleaning. Wash with warm, soapy water and a sponge to remove dirt, grime, or droppings. Composite cladding is rot and weather-resistant and does not require painting or staining.

Remember, this is a summarised guide. For detailed instructions, including safety precautions and specific measurements, refer to the full installation guide available on request. 
We also supply the full range of metal rainwater products, from aluminium to cast iron. Many products are available on a next day delivery basis with big discounts! Please get in touch with our team if you have any queries: info@tradewarehouse.co.uk.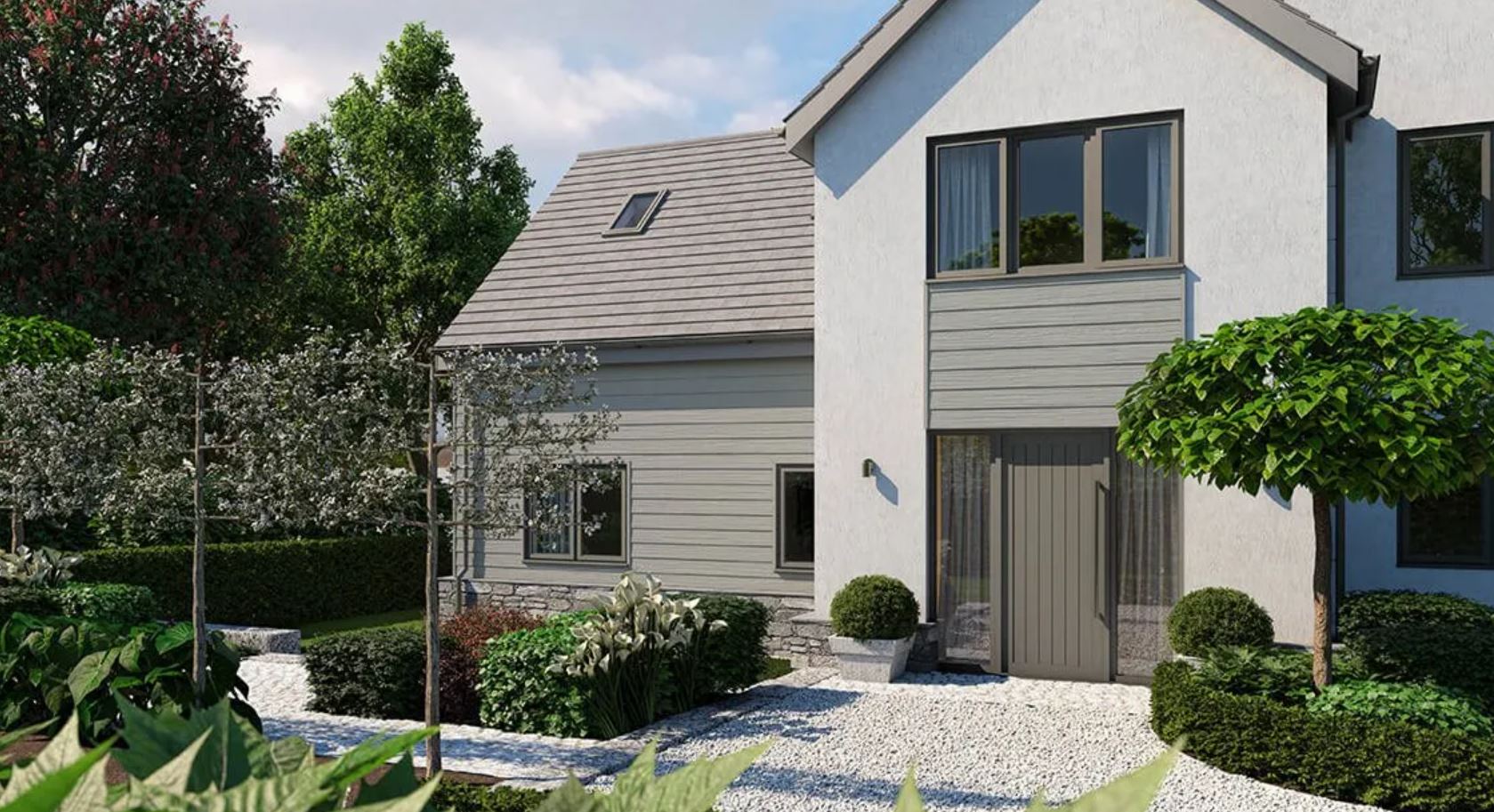 Feel A Sense Of Pride About Your Home Cladding
We want you to feel proud. It's tough searching for materials online without actually seeing the boards in front of you. Don't get caught out buying low-quality composite boards with little product information.
We want to equip you with all the tools to get the cladding installed on your own. The boards will be delivered right to your doorstep by a private delivery truck, allowing you to relax in the comfort of your own home. 
Many of our customers have been able to install the cladding quickly and efficiently – some even say it's fun!
Quality Matters To Us
Every single project and customer matters to us. We don't want to sell you cheap cladding boards that last a couple of years.
As a leading UK cladding supplier, the composite boards we supply are made from 60% FSC accredited wood and 40% recycled polyethylene, increasing the strength and lifespan. The boards are also doing their bit for the environment by using recycled plastic!
No need for the cladding to be sealed, stained or painted, which sets it apart from other materials.
A brilliant colour-stable alternative to traditional timber exterior cladding.
Read a recent testimonial here from a customer who had a positive experience with us.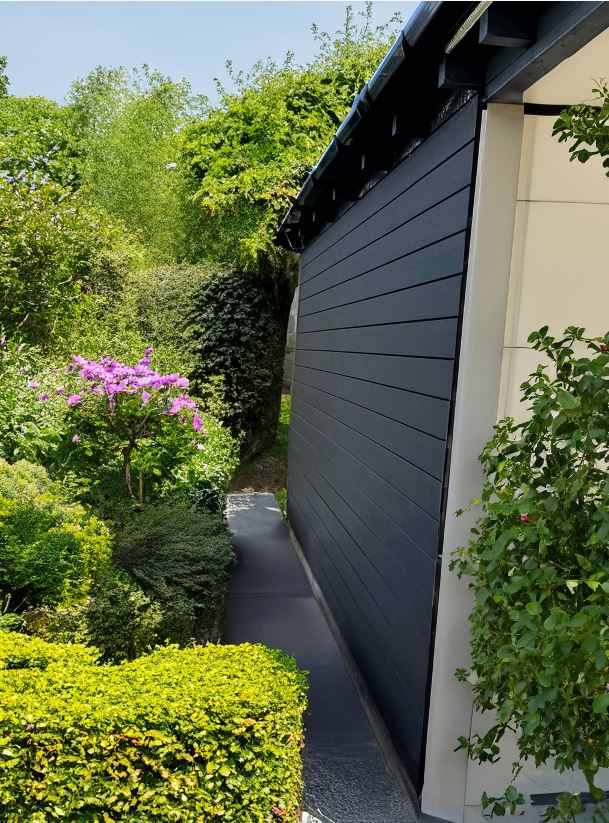 Frequently Asked Questions
The cladding boards are crafted from a unique blend of materials, combining 60% wood fibers with 40% polyethylene. This composition offers several advantages:
Sustainability: The wood fibers used are sourced from responsibly managed forests, ensuring an environmentally friendly product. By integrating recycled wood, we contribute to the reduction of deforestation and waste.
Durability: The wood fibers provide the boards with the natural appearance and strength of traditional wood, while the polyethylene contributes to the durability and resilience of the boards. This combination results in a robust material that withstands various weather conditions and resists rot, decay, and insect damage.
Low Maintenance: Unlike traditional wood, our composite cladding does not require regular painting, staining, or sealing. The polyethylene component makes the boards resistant to fading, staining, and scratching, ensuring they maintain their aesthetic appeal with minimal upkeep.
Eco-Friendly: The use of recycled materials in our boards makes them an eco-friendly option. The polyethylene used is often sourced from recycled plastic, reducing plastic waste and contributing to a circular economy.
Yes! There is no need to oil, varnish or paint your cladding boards – we recommend regularly wiping down composite cladding boards with a smooth cloth, using a bit of soap to get rid of simple stains. 
Try not to scratch the surface!
They come in 3.6m lengths, ideal for commercial, domestic and agricultural use.
Each board covers 0.45 square m.
The likelihood of your cladding fading over time depends on several factors, including exposure to sunlight and the type of cladding you choose.
Here's a more detailed explanation written by our expert technical team:
Sunlight Exposure: The cladding boards that we supply are designed to be resilient, but like most materials, they can be affected by constant, intense sunlight. In the UK, where weather conditions are typically varied with less intense and constant sun exposure compared to more tropical climates, the risk of significant fading is considerably reduced.
Seasonal Weather Considerations: The UK's seasonal weather patterns, characterised by a mix of sun, rain, and cloud cover, generally provide a conducive environment for maintaining the colour integrity of the cladding. This natural variation in weather helps to mitigate the potential for continuous sun exposure that can lead to fading.
Woodgrain Cladding Specifics: While many of the products that we supply are built for durability, the woodgrain cladding varieties have a slightly higher susceptibility to fading over time. This is due to the nature of the woodgrain finish, which can react to UV rays more readily than other finishes.
Material Composition: The composition, typically a mixture of wood fibers and polymers, is engineered to minimise fading. However, it's important to note that no material is entirely fade-proof, especially when exposed to UV rays over extended periods.
Preventive Measures: To extend the life and appearance of your cladding, consider implementing shades or landscaping that can reduce direct sun exposure. Regular cleaning and maintenance can also help in preserving the color and appearance of the cladding.
Natural Weathering Process: It's also important to understand that some degree of fading over time is a natural part of the weathering process for any outdoor material. This weathering can sometimes be seen as a desirable characteristic, giving the cladding a naturally aged look.
Yes, we offer a 10 year guarantee. If you have any queries about our policies, please get in touch with us: info@tradewarehouse.co.uk.
Approximate delivery time is 7-10 working days from receipt of order.
We will keep you well informed ahead of delivery.
We always aim for make sure our customers love our products, but if you do need to return an order, we're happy to help. Just email us directly and we'll take you through the process. Please note not all orders can be refunded, so it's important that you read our full guidance here.
Any other questions?
If we still haven't answered your question, you can contact us below and we will get back to you as soon as possible.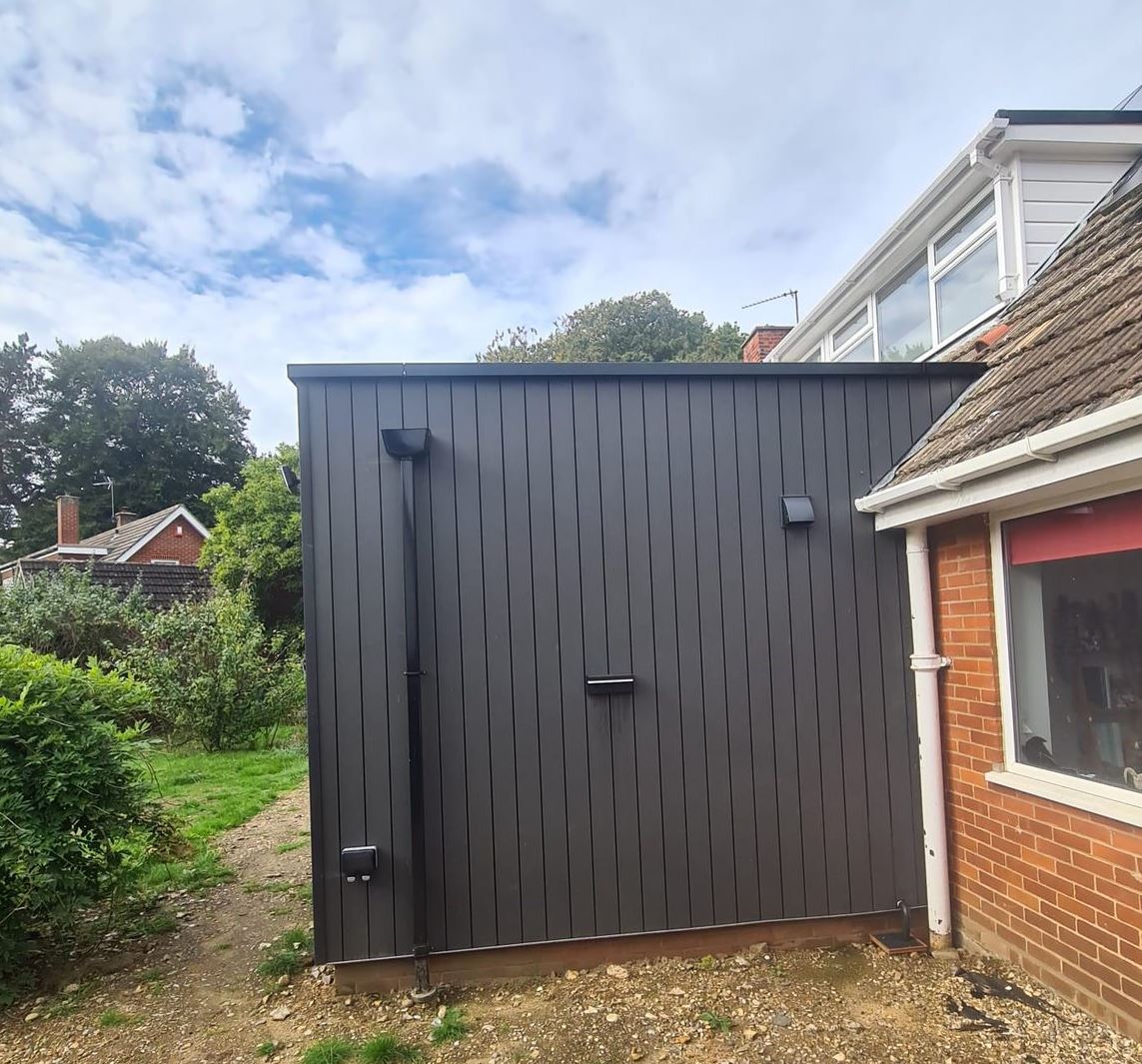 Crafted Using Recycled Materials
The composite cladding that we supply is made up of fully recycled materials (60% FSC accredited wood fibers and 40% polyethylene plastic. This combination offers durability, ensuring a long-lasting decking solution that adds to your home's 'curb appeal.'
Here at Trade Warehouse, we have a commitment to offering eco-friendly roofing and rainwater solutions, which is why over 75% of our products are considered eco-friendly. 
View Plain Composite Cladding
Super Simple To Maintain
Composite panel cladding is very low maintenance thanks to the bonding agents and other additives which are used in creation. No need to worry about staining or painting – just give the cladding a wipe whenever dirt lands on the surface.We recommend using soapy water to scrub the boards. Avoid using high-pressure washers or sharp objects when cleaning your composite cladding boards. Refer to our full guide for more details.
View Woodgrain Cladding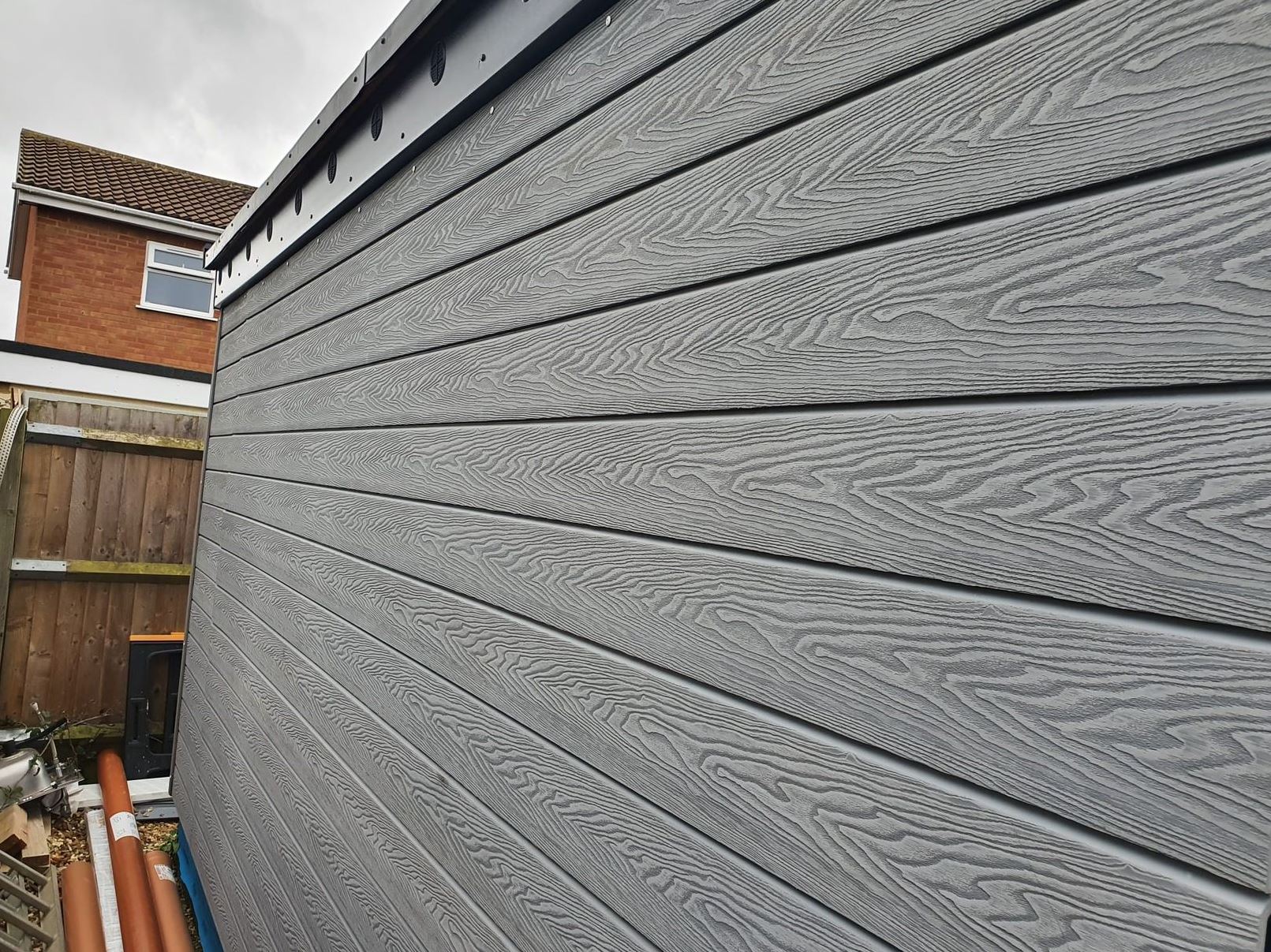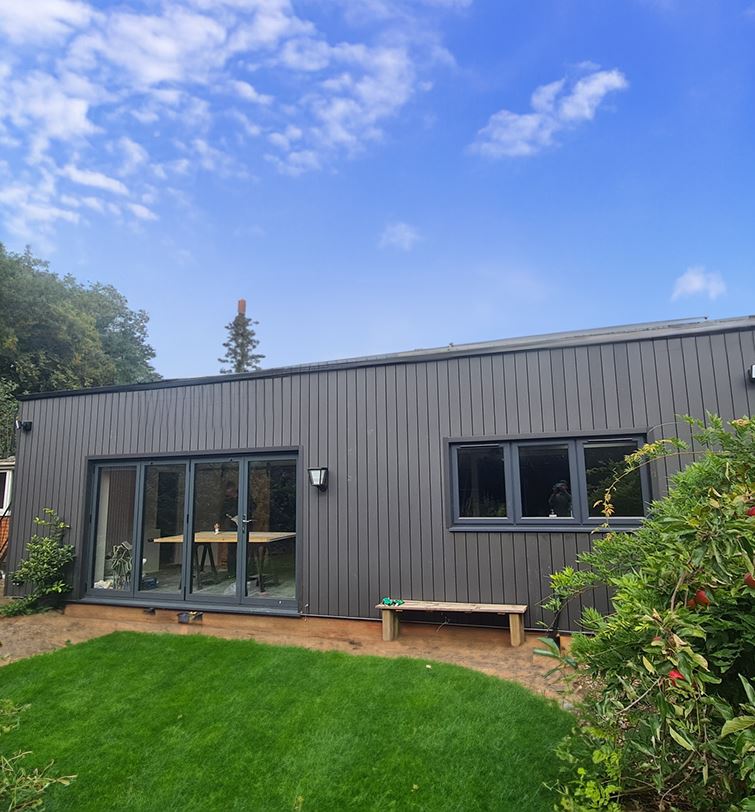 Range Of Colours Available
We wupply a wide range of 8 colours, making it easy for your to suit the interior or exterior of your property.
If you would like a closer look, you can directly request a sample pack by getting in touch with our team: info@tradewarehouse.co.uk.We offer composite cladding in eight colours and two finishes, giving you a wide range of choice!