Aluminium guttering
 is a brilliant alternative to cast iron because it achieves a similar appearance but is cheaper and a more lightweight system. We supply two different finishes; cast and contemporary.
Our Alumasc cast range is to be used on properties that want to achieve a classic heritage appearance, such as listed buildings. Within this range, textured black is available on next working day delivery, and a variety of other aluminium guttering colour finishes are in-stock. The guttering will not rust as the surfaces oxidise to create a natural barrier.
For a more contemporary look on your property, we recommend using the SnapIt half-round guttering and SnapIt Express extruded systems. The 3m length gutters and snap-together systems make them easy to install and ideal in areas which are hard to access. We offer a wide range of coatings and finishes.
There are a number of benefits to using aluminium guttering for your project. Below, we outline some of the key advantages:
Durability

 

– Aluminium is a durable material and will not rust, making it a great long-term choice. Its life cycle is expected to be upwards of 30 years under correct maintenance. Unlike PVC, you won't have to replace this rainwater system after a few years! 
These gutters and downpipes will not crack. If you're in a windy area (e.g. coastal locations), you may have debris and sticks attacking the gutters on a regular basis. The gutters are much stronger than plastic guttering, and it also isn't affected by temperature changes (i.e. it doesn't crack). 
Little maintenance required

 

– Aside from clearing out leaves from the gutters, little maintenance is required for this system. There is no need to worry about priming, painting or protecting the gutters.
Lightweight

 

– Aluminium weighs around 2.7g per

cm

3, which is approximately 1/3 of the density of

 

steel

 

and

 

cast iron guttering. This makes it easy to install, shape and transport. It's also why aeroplanes are built using this material!
Corrosion resistant

 

– did you know that aluminium naturally creates a protective oxide coating when it comes into contact with oxygen? This protects against corrosion and, if it's damaged, it will regenerate (as long as oxygen is present).
A high quality, aesthetic appearance

 

– a fantastic addition to your property and matches contemporary facades in urban areas. Get in touch with us for metal guttering case studies for project inspiration.
UV Radiation resistant

 

– PVC can suffer from colour fading and cracking, whereas aluminium does not.
Eco-friendly

 

– 100% recyclable and the re-melting process only requires about 5% of the energy needed in initial production. With the growing threat of climate change, it has never been more important to choose an eco-friendly rainwater system.
If you need any help choosing the right gutter for your home, please drop us a message: info@tradewarehouse.co.uk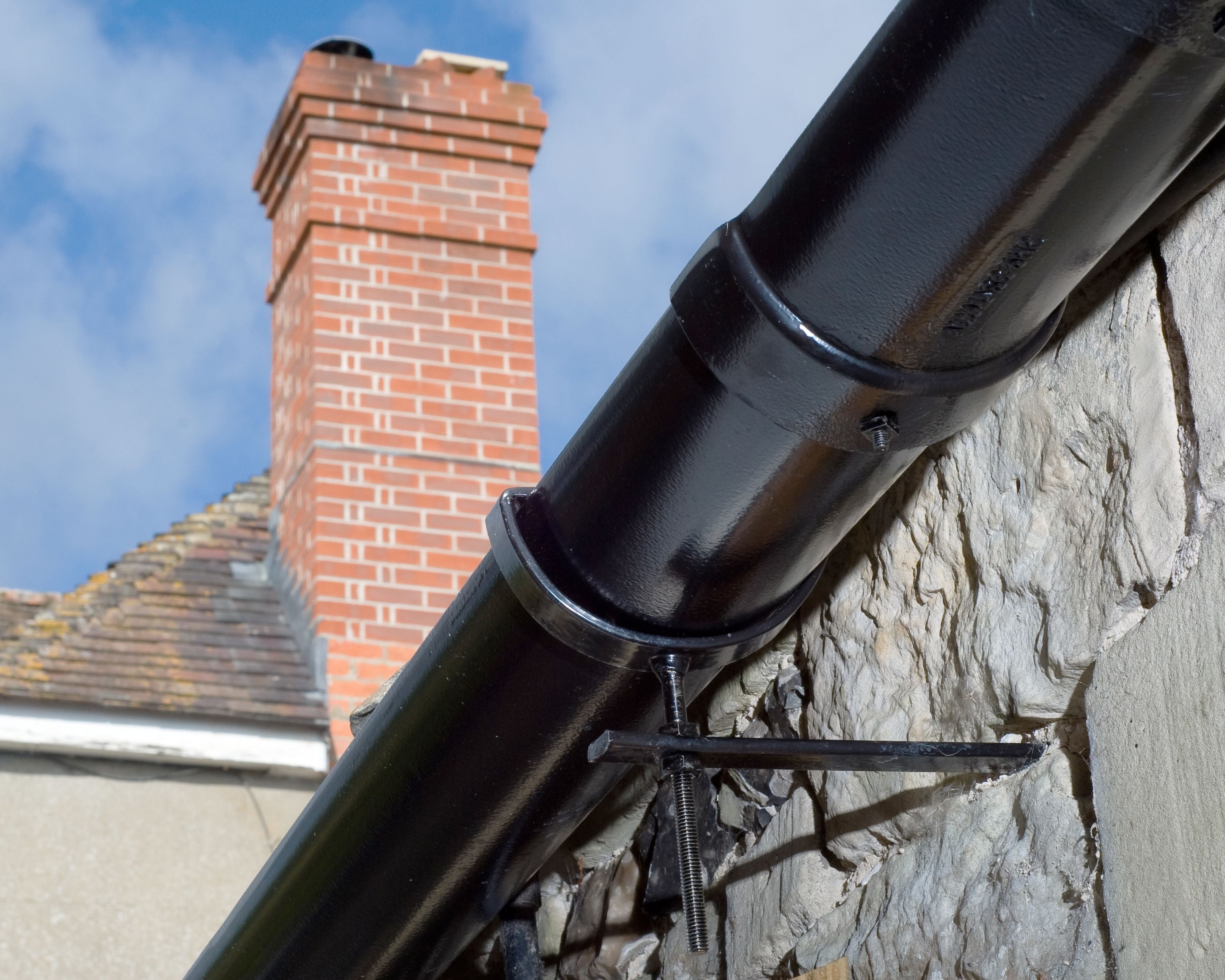 Durable
In a domestic environment, aluminium gutters last upwards of 25 years. They also do not rust, giving you peace of mind when ordering with us.
Traditional cast aluminium is suited to heritage or listed properties, whereas contemporary aluminium is slightly cheaper and offers a more modern look.
Aluminium is lighter than cast iron which makes it a popular choice for many homeowners, architects, developers and builders.
Why Aluminium Guttering is a Smart Choice for Your Home
Aluminium guttering is an excellent choice for homeowners who are looking for an affordable, durable, and low-maintenance option for their rainwater management system. Compared to plastic guttering, this system has a much longer lifespan and is not prone to cracking after a few months. It can withstand those harsh British storms!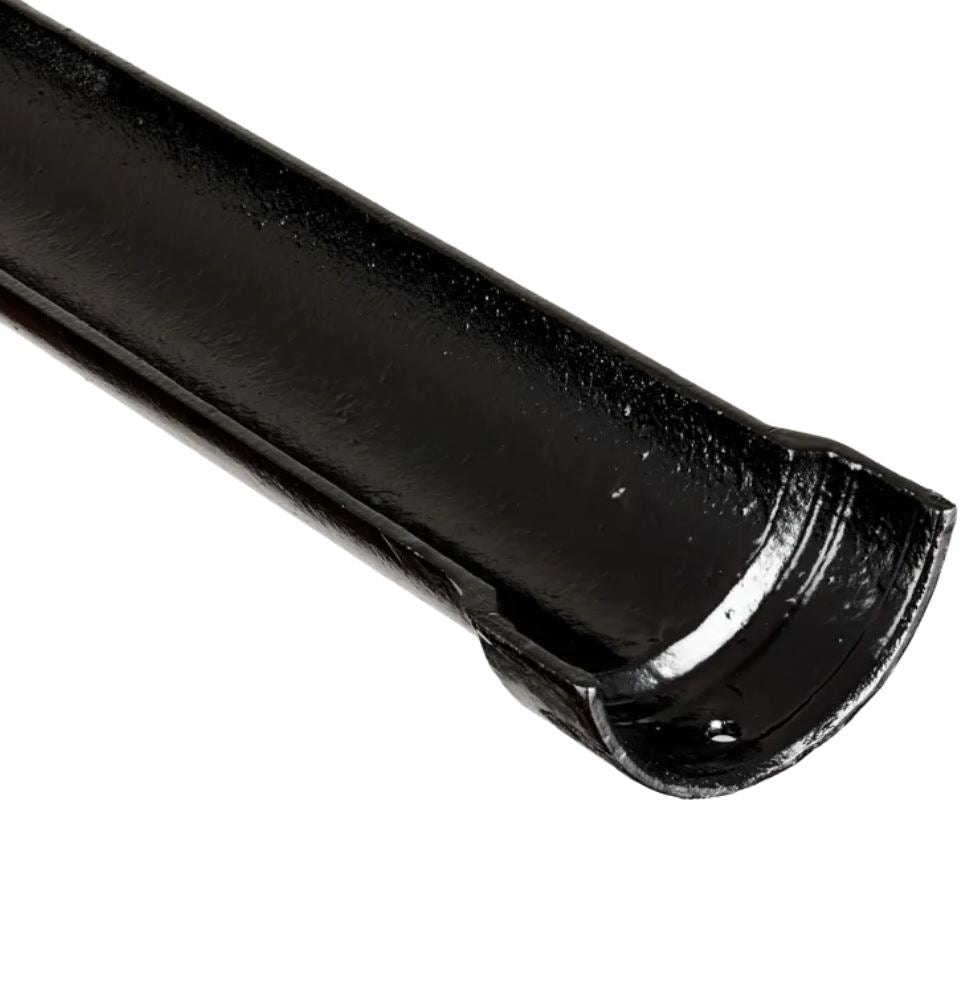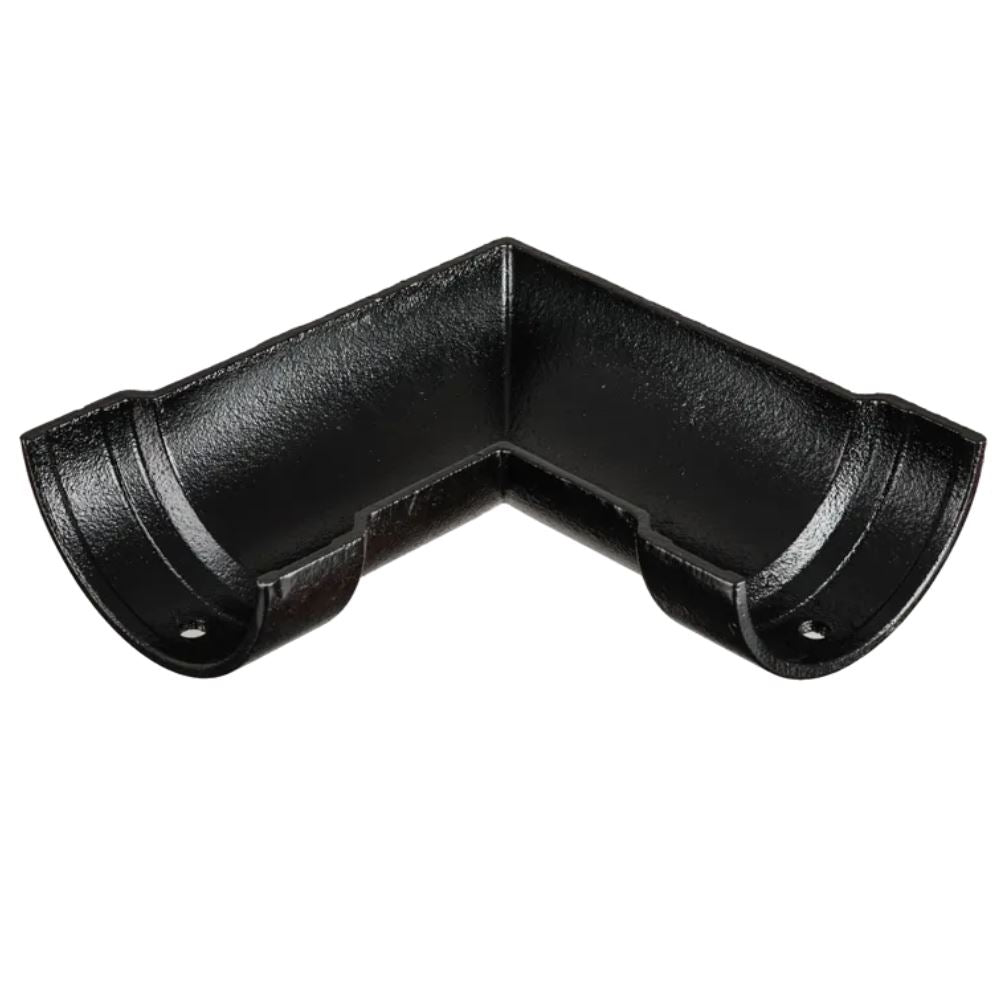 An Eco Concious Choice
Did you know that over 80% of aluminium rainwater systems installed on UK homes have been made using recycled material? That's because it's fully recyclable at the end of its life.

Steel guttering is also another popular alternative, and is cheaper than aluminium and cast iron rainwater systems. it comes in a range of RAL colours, including RAL9005 black.
FAQs
We think so! Fitting cast iron is likely to be a two-person job as items such as downpipes can be quite heavy. Aluminium is far lighter and easier to fit, which makes it a great choice for residential use where access may be difficult. If you want something really easy, consider the SnapIt range.
If you need any support choosing a rainwater system, please get in touch with our experienced team on info@tradewarehouse.co.uk.
It's highly eco-friendly. Did you know that over 80% aluminium guttering that is in use on homes has been fully recycled?
It can be melted down and reused at the end of it's life, just like lindab guttering, a steel alternative..
Yes, you should leave a 4mm expansion gap between the pipe end and socket. You should also insert a 6mm backing foam into the pipe joint.
It really depends on your project. If you want a more heritage look, then consider using cast iron or aluminium. If you want a contemporary finish which is a lower cost, consider steel guttering.
Nope! The great thing about this rainwater system is that there is no need to prime or paint the gutters. Aside from cleaning leaves, maintenance is very minimal!
Any other questions?
If we still haven't answered your question, you can contact us below and we will get back to you as soon as possible.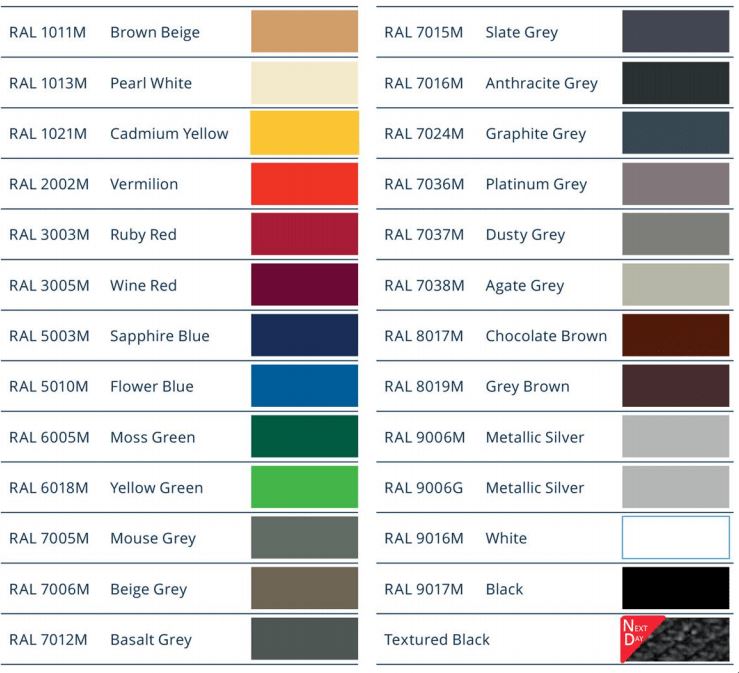 Choice of RAL Colours Available in 7-10 days
Email us if you have a custom colour requirement. We can do any colour, just drop us an email!
Remember lead time is slightly longer on the custom colours. Textured black is available in 1-2 working days.
info@tradewarehouse.co.uk
Why Choose Aluminium Guttering?
Aluminium guttering is a smart investment for any homeowner. Not only does it provide a sleek look to your home's exterior, but it also offers many benefits when compared with other systems such as uPVC.
Firstly, aluminium guttering is incredibly durable. It can withstand extreme weather conditions, such as heavy rain, snow and hail. Unlike other materials, such as plastic, it is not prone to cracking or breaking. This means that your guttering will last for many years, without the need for repairs or replacements.
Secondly, this system is lightweight, making it easy to install. This is a major advantage over cast iron, which can be heavy to work with and tough to install.
Another benefit of aluminium guttering is that it's low-maintenance and is not susceptible to rot or decay. This means that you don't need to spend time and money on sanding, staining, or painting your guttering. Simply clean it periodically with a hose or pressure washer, and it will look great.
Aluminium rainwater systems are also highly resistant to corrosion. This is especially important if you live in a coastal area like Devon or Cornwall, where saltwater and other environmental factors can cause metal to rust and deteriorate quickly.
With metal gutters, you don't need to worry about this problem. It will remain corrosion-free, even in harsh coastal conditions.
It's also a cost-effective option. While it may be slightly more expensive than other materials such plastic, it offers superior quality and longevity. This means that you will save money in the long run, as you won't need to replace your guttering system as frequently. The system is also fully recyclable!