Cast Iron guttering is an extremely long-lasting rainwater solution, with a lifespan of over 50 years (with the correct maintenance). Its eco-friendliness and durability makes it a fantastic choice for more traditional properties. 
Cast iron guttering comes in half-round, beaded half-round, Victorian ogee or moulded ogee gutter profiles, with matching round or square downpipes. The pre-painted black range has an initial red oxide primer coat, followed by 2 black semi-gloss top coats. An average thickness of 75-100mu is applied to all cast iron rainwater pre-painted products in our ranges. 
The primed rainwater system is painted on-site by the installer/customer and, as a result, depending on factors such as weather, skill and care of the painter, the appearance of this range can vary. When choosing this system, you need to be sure that weather conditions are sound, the paint will dry effectively and the paint quality is good.
 We highly recommend paying that little bit extra for the pre-painted cast iron guttering because of its long lifespan and resistance to the elements, making it a better long-term investment.
Benefits of using this cast iron guttering 
Available in primed or painted finish
Fast UK-wide shipping (2-5 working days from receipt of order)
Delivered straight from the UK warehouse
Components come with free fixings and joining pack
Complies with all heritage and conservation requirements
Traditional sand cast iron.
Cast iron guttering holds a rich historical significance, serving as a reliable choice for centuries. Its enduring nature and timeless appeal continue to make it a preferred choice in modern construction and restoration projects.
Compared to other materials such as steel and aluminium, cast iron offers unparalleled durability, making it a wise investment for homeowners.
The Composition of Cast Iron
The production of cast iron involves the melting and molding of iron and carbon, resulting in a material known for its strength and longevity.
Cast iron's resistance to weathering and its ability to withstand harsh conditions contribute to its extended lifespan.
Design Varieties in Cast Iron Guttering
From traditional Victorian styles to sleek, contemporary designs, cast iron guttering provides a range of aesthetic options. Here at Trade Warehouse, we provide a range of profiles, including Victorian Ogee, Beaded Half Round, Plain Half Round, Deepflow and Moulded Ogee.
The Installation of Cast Iron Gutters
It's important to think through the installation process for this rainwater system. While it is strongly advised to engage a professional installer, particularly those with a track record in working with cast iron systems, the task is not beyond the reach of a knowledgeable and well-prepared DIY enthusiast!
The installation process starts with the planning phase. This involves accurate measurements of the roof edge to determine the necessary length of guttering, as well as identifying the optimal positioning for downpipes to ensure efficient rainwater drainage. In the UK, where rainfall can be frequent and at times heavy, this aspect of planning is particularly crucial.
Following the planning stage, the next step is to get the necessary tools and materials for the job. This includes, but is not limited to, a ladder, safety equipment, a set of gutter brackets, and of course, the cast iron gutters themselves.
Once all materials are on hand and you've measured up correctly, you can start the installation. This involves attaching the gutter brackets to the fascia board at the pre-determined intervals, taking care to ensure they are level and securely fixed. The cast iron gutters can then be mounted onto the brackets, making certain that each section is properly aligned and that there is a slight gradient to facilitate water flow towards the downpipes.
The joints between each gutter section requires careful attention, ensuring they are properly sealed to prevent leaks. A high-quality, durable sealant should be used for this purpose, applied meticulously to ensure a watertight seal.
After the gutters are in place, the downpipes can be installed, ensuring they are securely attached to the wall and connected to the gutter outlet. The base of the downpipe should direct water away from the property's foundations, protecting the structure from potential water damage.
Upon completion of the installation, a comprehensive inspection should be carried out to ensure that all components are securely fixed, properly aligned, and free from leaks. Any necessary adjustments should be made promptly to ensure the system functions optimally.
In conclusion, while the installation of cast iron gutters is a task that can be undertaken by a well-equipped DIY enthusiast, it is a process that demands precision, attention to detail, and a thorough understanding of the task at hand. For those less experienced or unsure of the process, seeking the expertise of a professional installer is a wise and prudent decision, ensuring that the guttering system is installed correctly and will perform effectively for many years to come.
Maintenance and Care for Cast Iron Gutters
Regular cleaning and inspection play a vital role in maintaining the integrity of your rainwater system. Addressing issues such as rust and wear promptly ensures long-term functionality.
Employing preservation techniques also contributes to the extension of their lifespan.
Cost Analysis of Cast Iron Guttering
When contemplating the investment in cast iron guttering, it's important to analyse both the upfront costs and the long-term financial implications. Cast iron guttering has a higher initial price tag when compared with alternatives made from materials like plastic or aluminum. This is largely attributed to the robust nature of cast iron and the intricate manufacturing processes involved in its production.
From a longevity persepctive, cast iron stands comes with a lifespan that can comfortably exceed several decades. It outstrips most of its counterparts made from weaker materials like PVC. This longevity translates to fewer replacements and repairs, ultimately leading to substantial cost savings over time. Homeowners who opt for cast iron are making a forward-thinking investment, as the long-term financial outlay is significantly reduced when compared to the recurrent costs associated with less durable guttering options.
In terms of maintenance, cast iron guttering is relatively low-key. While regular inspections and cleaning are recommended to maintain optimal appearance, the frequency and cost of these maintenance activities are generally lower than what is required for other types of guttering. Cast iron's natural resistance to weathering and corrosion plays a vital role in this.
Furthermore, the aesthetic appeal of cast iron rainwater systems can contribute to a property's overall value. This is particularly the case for older or historic buildings, where maintaining architectural integrity is important.
In conclusion, while the upfront cost of cast iron guttering may seem dear, it is a wise investment that pays dividends in the long run. Its unparalleled longevity, coupled with low maintenance requirements and the potential to enhance property value. Homeowners and DIY enthusiasts who choose cast iron are not just purchasing a product; they are investing in peace of mind and the assurance of a guttering system that will serve them for years to come.

Environmental Impact and Sustainability
The sustainability of cast iron guttering is evident in its recyclability and the minimal energy consumed in its production.
These factors contribute to its reputation as an eco-friendly option. At Trade Warehouse, we are committed to promoting the use of metal guttering, as opposed to PVC alternatives.
Common Issues and Solutions
Issues such as leaks, blockages, and structural damage can arise with cast iron gutters. However, these problems are preventable and manageable with proper care and preventative measures.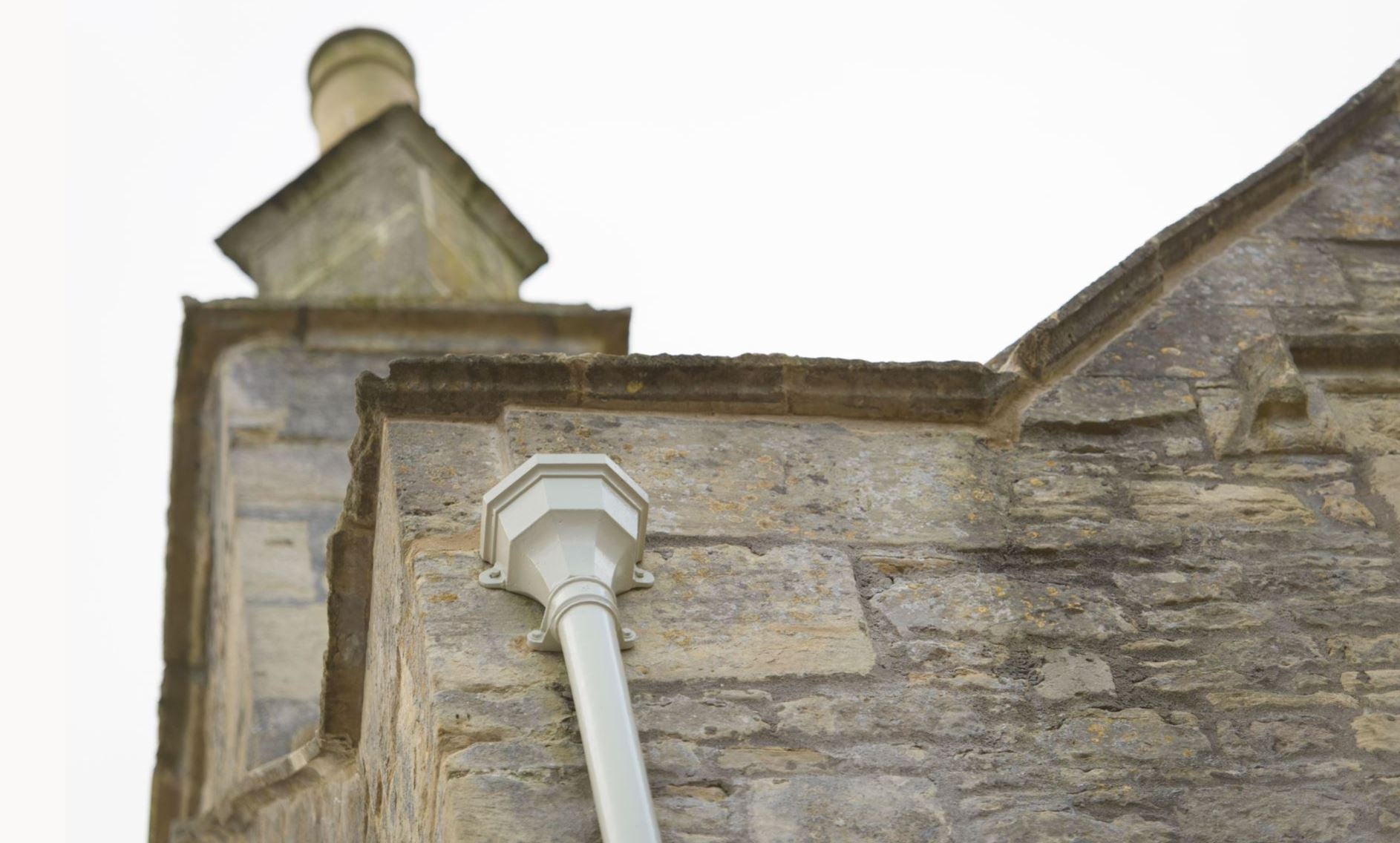 Pre Painted Vs Primed
Pre-painted cast iron is more expensive than primed cast iron, but is a better investment in the long run because of its factory-applied three-coat system. The paint has been specially developed to give a smooth and long lasting finish to the cast iron which is very difficult to replicate on-site. Pre-painted black is available in 2-5 working days.
Primed cast iron gutters are cheaper than the pre-painted range, and come with a temporary 'transit coating' of protective grey oxide primer. They are then painted & installed by a contractor on-site, allowing you to complement other finishes on your property. These products should be painted immediately, as exposure can lead to corrosion.  
A Durable Rainwater System
Manufacturer coatings have improved since the 19th century, and if maintained correctly, cast iron gutters can last in excess of 50 years, possibly even longer! That's why we often recommend these gutters in place of steel - because they look fantastic on heritage properties.
Here at Trade Warehouse, our team has worked on delivering cast iron guttering for a number of listed buildings. We work closely with a renowned foundry to get the highest quality cast iron rainwater products.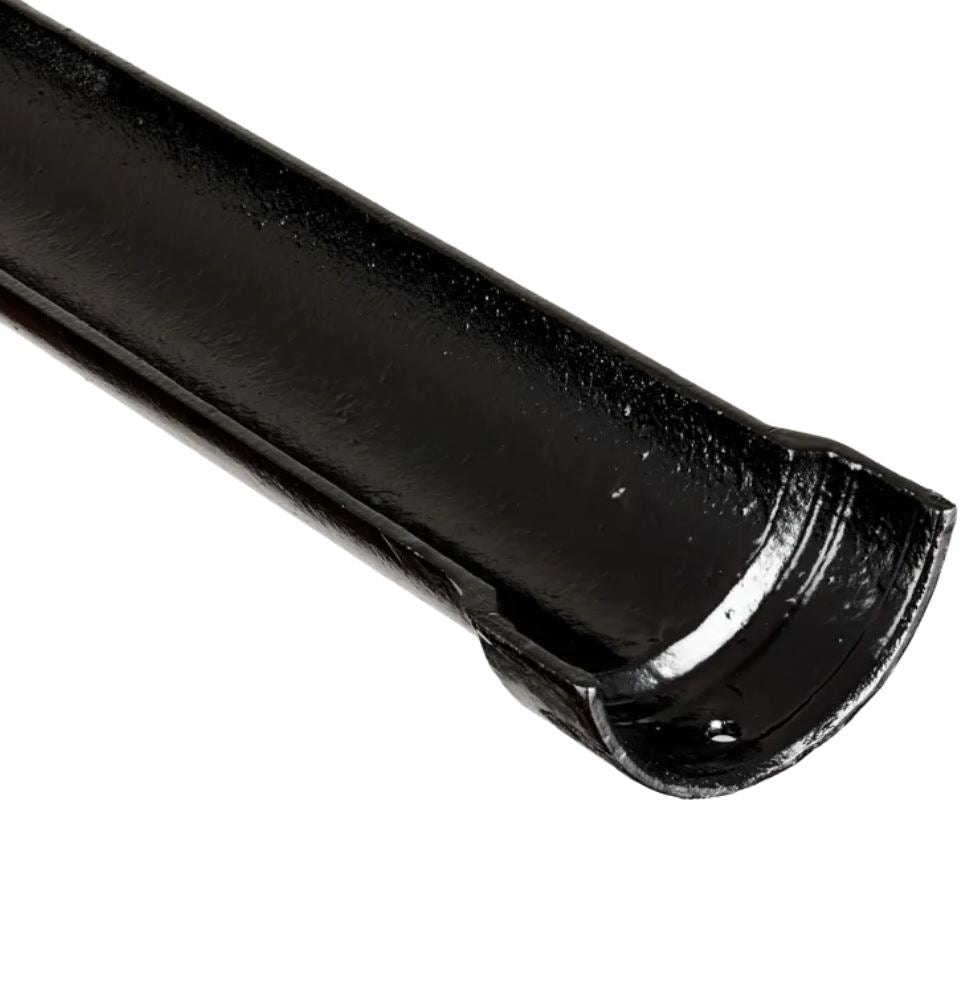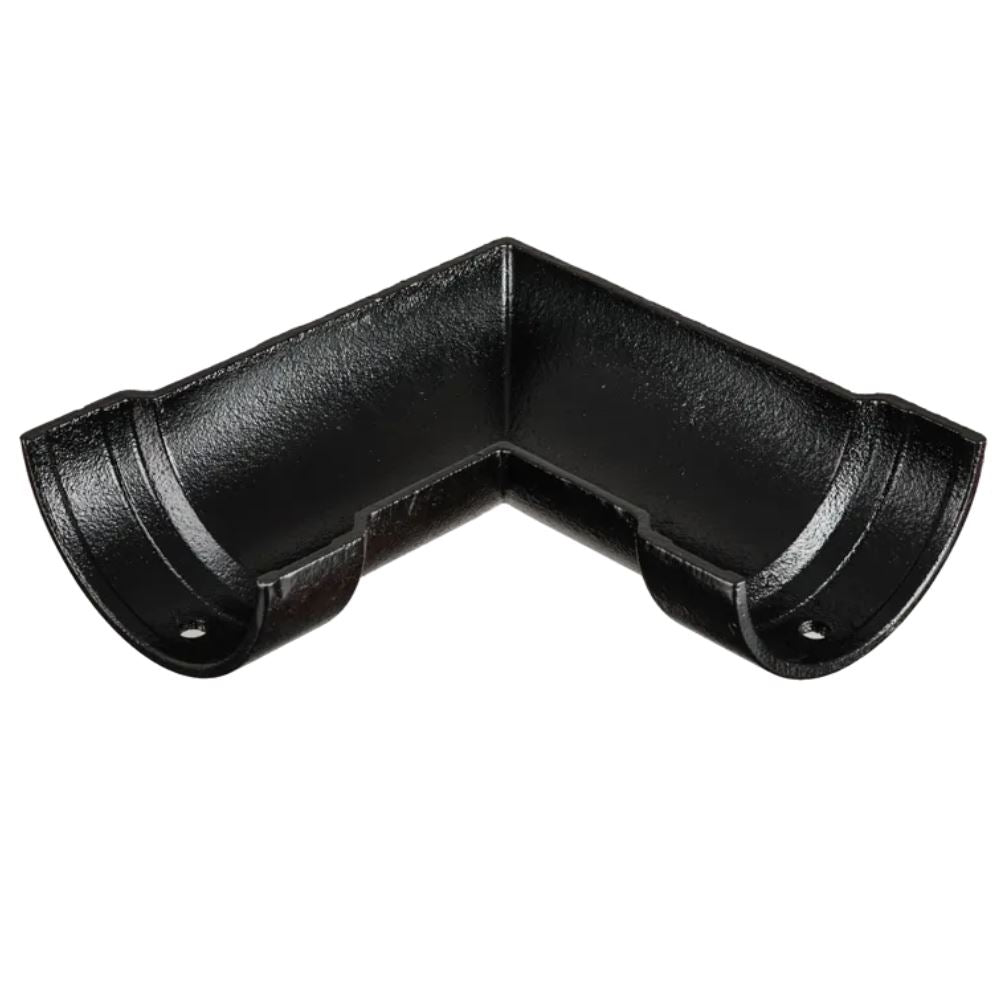 An Eco Concious Choice
Cast Iron guttering is 100% recyclable, and because of its long lifespan of up to 50 years, it reduces the need for other materials. Plastic guttering is prone to cracking and often needs attention after a few years.
Some research suggests that the by-products of iron oxide enhances the growth of plant life. Our mission is to sell more products which take our natural envrioenment into consideration.
Cast Iron Guttering FAQs
For pre-painted black, we can get your order delivered in 2-5 working days from receipt of order.
Please follow the half round installation guide to find out more.
Yes absolutely, but please note it may be a little more expensive to ship here due to the distanced travelled and heaviness of the items. 
Please get in touch with us ahead of ordering.
"RAL" is the colour system used to identify metal paint colours. It makes purchasing easy. It means you can order from a supplier and be clear about the exact colour you are searching for.
Yes, sure. Please email us with your cast iron guttering requirements and we'll get back to you right away: info@tradewarehouse.co.uk.
It really depends on your project. If you want a more heritage look, then consider using cast iron or aluminium. If you want a contemporary finish which is a lower cost, consider steel guttering.
We can offer any RAL colour you'd like! Our popular colours are galvanised, black and anthracite grey. These are also available on a next working day delivery basis.
Yes, again, please drop us an email and we can post these out to you free of charge. Bear in mind it will take 2-3 days to receive them.
Yes you will need fascia brackets for your project if you don't have any spare.
We offer a variety of cast iron hopper styles and sizes. From fluted to rectangular, we have one to suit your heritage project. Just drop us an email or explore our cast iron hopper page for further details.
Any other questions?
If we still haven't answered your question, you can contact us below and we will get back to you as soon as possible.